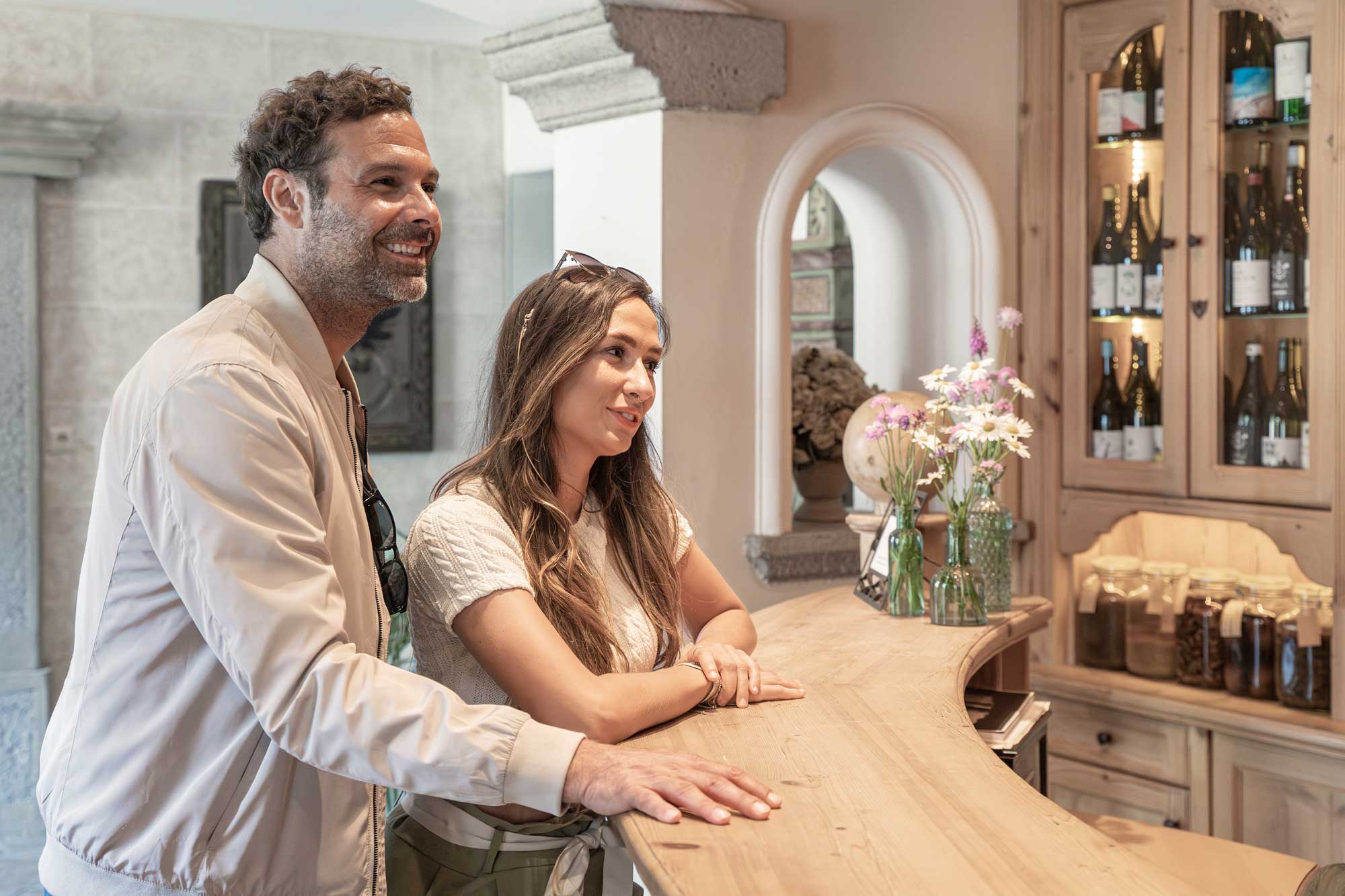 What are your latest check-in times? Where can I park my car? Are dogs allowed? Find answers to the questions most frequently asked by our guests here. Can't find what you're looking for? Then call or email us. We will gladly assist you.
What are the reservation conditions?
Reservations are binding upon payment of a 20% deposit of the full price and are guaranteed when you receive our deposit payment confirmation. By paying the deposit, you agree to our terms and conditions.
What payment options are available?
We accept payment by bank transfer or PayPal. You can settle your final bill using the following payment options: Cash in euros or by credit card: Eurocard, Mastercard, Visa, EC card.
Bank details: Sparkasse Reutte
Sort code: 20509
IBAN: AT44 2050 9005 0010 9400
BIC/SWIFT: SPREAT21
When should I pay my bill?
You are welcome to settle your bill the evening before departure during reception opening hours.
What are the cancellation conditions?
Cancellations are only valid if made in writing. Your deposit covers the cancellation fee up to four weeks before your arrival date. We charge 80% of the full price for cancellations within the last four weeks before your arrival date. We charge 100% of the full price for late arrivals or early departures. The cancellation conditions apply regardless of whether the cancelled apartments have been fully or partially rented out to another guest. We recommend taking out travel insurance. You can find additional information here.
Dogs are welcome. However, we charge a daily fee of EUR 16, and you are liable for any damage your dog causes. Please ensure that your dog does not answer nature's call in our garden or flower beds in front of the building.
Is baby equipment available?
We are happy to provide you with a crib and high-chair. We also have a baby bathtub, a bottle warmer, a changing table, a potty, and a babyphon Sphygmomanometer. Please let us know what you need in advance.
What is the earliest check-in time? How long can I stay?
Apartments are available from 4 p.m. on the day of arrival.
We ask you to vacate the apartment by 10 a.m. on the day of departure.
Please let us know in advance if you plan to arrive after 8 p.m.
Is late check-out possible?
Yes, depending on availability. However, you will incur a late check-out fee.
When is the Turmcafé open?
We are always open from 4 p.m. to 8 p.m., but the bar may remain open longer if we are especially busy.
No, our historic building does not have an elevator, but we will gladly assist you with your luggage.
What are the kitchen amenities?
Our kitchens are equipped with everything you need for cooking and dining, except an oven. Our larger apartments for up to six people are equipped with a microwave oven.
You can park in our courtyard, and public parking is available right in front of the lift parking lot.
Where can I charge my electric vehicle?
There are several Tesla charging points in the lift parking lot right next door to the Felsenheim, as well as two charging points under our carport.
How do I get to Ansitz Felsenheim by train?
The village bus is usually waiting for you at Lermoos train station, which will take you to the Felsenheim. We will gladly pick you up from Lermoos station if there is no bus.
What does the price include?
The price includes entry to our spa area for ages 16 and over during opening hours, entry to the panoramic outdoor pool in Lermoos in summer, use of our bicycles in summer, use of our toboggans in winter, DVD, board game and book rental, interim cleaning if your stay is more than 7 nights, and Wi-Fi throughout the building.
We have a laundry room equipped with a washing machine and dryer for use by our guests. We charge a small fee for their use.
I would like to use the bakery service. How and when should I order my bread rolls?
You will find a list of our baked items in your apartment. Please order baked items at reception by 7 p.m. the night before. We deliver the bread rolls at 8 a.m.
Is there a breakfast buffet or is breakfast served?
We offer a generous served breakfast at a cost of EUR 21 per person/per day (EUR 10.50 for children under the age of 10). Please book your breakfast by 7 p.m. the evening before. We also offer a skier's breakfast in winter
Are gluten-free/vegan breakfasts available?
Yes, we can do that. It would be helpful if you could inform us of any food intolerances or preferences in advance.
Is dinner available at the aparthotel?
We prepare a fixed menu once a week for our guests. We will let you know in good time which day of the week that will be.
Where can I rent skis and ski boots?
You can rent skis and ski boots right across from the Felsenheim at the Hochmoosexpress valley station.
Are bathrobes, wellness bags, and bathroom slippers available for the spa area?
You are welcome to borrow a wellness bag containing a bathrobe and sauna towel at reception. We have decided to no longer include bathroom slippers in the bag for the sake of the environment; instead, we request that you bring your own from home. However, we always have some in stock if you forget to bring them.